The core of all feminist work is to try and restore balance in the world and in ourselves, whichever gender we manifest in this lifetime. "Thus," Shaw writes, "although respect for women is the cornerstone of Tantric gender relations, it has different implications for women and men. [Tantra] . . challenges a woman to recognize her own divinity, while it requires a man to purify his vision."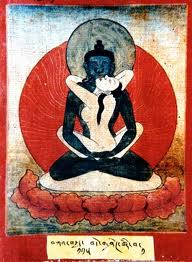 What Tantra has to teach us is that sex is neither good nor bad, but blissful - and empty. If we don't grasp it, but learn to use its remarkable and powerful energies in pursuit of enlightenment, it can help "untie the knots," as the Buddha said. Meaning our emotional afflictions, neuroses, and just plain mean-spiritedness. How can we develop loving-kindness for all beings, or even ourselves, without unlocking our hearts? And while some may be able to do this in isolation, tantric lovemaking offers an alternative path for those who can't.
There are major dangers for couples on the Tantric path, of course. Firstly, it requires even more compatibility than ordinary relationships, because of the extraordinary intimacy and exchange of energies. "Tantric Buddhism represents a different cultural realm and a novel variation on gender relations. The power that reigns in this realm . . . is not power of domination, but a power of transformation and liberation."
The above, in a nutshell, is the major prerequisite for sexual yoga, i.e., that it be undertaken for the ultimate benefit of all sentient beings, not personal gratification. (And of course the downside is that the practice of sexual yoga without the above positive motivation will lead, you guessed it, straight to the hell realms.)
The Candamaharosana-tantra quotes Vajrayogini as saying "Wherever in the world a female body is seen, That should be recognized as my body." In other words, any denigration of women can be seen as a violation of tantric vows. This is the first precept of a Tantric viewpoint, that without seeing women - and men - as divine, there cannot be real spiritual advancement. And this, we would add, is the most empowering point in a Tantric world-view. On the path to enlightenment, there is no room for gender discrimination.