Of course it's true, as Lama Yeshe says later, that "narrow selfishness always leads to disappointment" (though Wall Street bankers still seem to be able to enjoy their bloated bonuses, at least in this life).
And it's equally clear that "open-hearted dedication to others brings about happiness and a sense of well-being." If - big if here - the heart hasn't been too damaged early on to do so.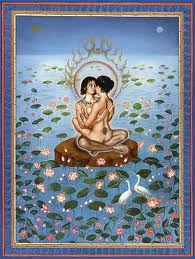 Unpopular as it might be, the "central understanding of Buddhism is that all the circumstances of our life are manifestations of our own consciousness." That being the case, Westerners seem both uniquely blessed and cursed. Blessed in manifold material comforts, cursed in some very harmful child-rearing and cultural mores. (Which then require emotional and sexual healing.)
Guru yoga is the antidote for dualistic, deluded mind. If we "learn to identify our own innermost mind with that of our guru," we are practicing skillful means, i.e., displacing the usual chaos of unenlightened consciousness with that of a deity.
Another noteworthy reminder is that it's "customary to receive initiation into a particular tantric practice again and again, each time being better able to receive deeper and deeper levels of experience."
Lama Yeshe gives numerous pearls of wisdom about the subtle body and mind that you need to re-read for yourselves - yes, you do. Because "Tantric transformation . . . is not merely a matter of imagination; our physical being is profoundly transformed as well."
You must have read Jack Kornfield's illuminating story about how they catch monkeys in Asia by now. All they do is put out some coconuts with holes in the top, no nets, snares or cages. The monkeys put their hands in to get the coconut meat, but can't let go, even when the monkey-catchers come to collect them. They could let go and run away, but they're unable to give up the object of their desire, thus insuring their capture.