Elizabeth Gilbert's ground-breaking, best-selling book, Eat Pray Love, the basis for the movie with Julia Roberts and Xavier Bardem, shines through the film version.
Luckily, we don't get a watered-down Hollywood adaptation of Gilbert's profound insights and wonderful writing. What we get is just marvelous, as far as it goes.
I resisted the book for a long time, which almost always means, in my case, that there are uncomfortable truths therein. Eat Pray Love is about the hard work of personal transformation. The movie delivers the message -- and yes, Virginia, all films are not merely escapist entertainment -- with a sweetness and simplicity that quite frankly amazed me, jaded mature movie-goer that I am.
Special kudos to the director, Ryan Murphy. The actors were all good, which is not unusual for good actors. As a writer, however, I always feel that the writing comes first, without which, after all, the actors would have no script upon which to project their talent. But it's really the directors of a film who bear the burden of artistic creation. In the case of Eat Pray Love, the emotional honesty and willingness to bear witness to the painful and inevitable human condition of loss was highly unusual.
Julia Roberts was notable for her willingness to not always look glamorous. She even looks pretty funky in a lot of scenes, as she wades through the pulverizing process of a long and painful divorce -- although to be fair to the film, she does it with panache and a literal, loveable appetite for life. Never has eating pasta and pizza looked so . . . inspiring.
More special kudos to Elizabeth Gilbert, not only for writing the book -- a huge gift to the world --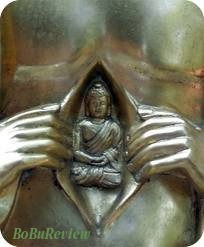 but especially for her unembarrassed search for meaning in her life. Which to her means God. This is a big subject for a non-theistic bohemian Buddhist, but suffice to say that Gilbert's approach is nominally non-denominational, at least among the theistic religions. She touts her East Indian Guru's teachings on love and meditation, with which no one of any serious religious persuasion could really find fault.
In place of God, Buddhism would posit buddha nature, our indefinable, intrinsic, infinitely wise and compassionate true selves, not a being.
(There are further, subtler and more profound differences but they're not for a review column to expound on). Gilbert's words sound close to this definition when she
describes a scene in the ashram, in which Roberts' character realizes that "God dwells within you,as you." Rarely has a recent movie conveyed such a simple and universal truth in so few words.
So now, apparently, some of our highest esoteric teachings come from the silver screen and from eye-catching actors like Julia Roberts and Javier Bardem. Eat Pray Love will be seen by many millions of people of different beliefs all over the world. One can only hope it will help subdue the fires of religious fundamentalism to reveal what we all share -- the deep and abiding desire to find our true selves and open our hearts to each other.
by Paki S. Wright, February, 2013
Other Books by Elizabeth Gilbert